We all are well aware of chapatis, fulkas, paantha which are made from wheat flour, particularly in northern and western India. In this article we'll check out the top 5 wheat flour brand in India based on their popularity, quality and the brand's Corporate Social Responsibility and Sustainability in their business practices.
1. Aashirvaad Shudh Chakki Atta
We highly recommend this Atta brand because not only it has purity at honest pricing but additionally Aashirvaad wheat flour or Atta is from the house of ITC which has tremendous CSR ranking. ITC endeavor's to embed the principles of sustainability, as far as practicable, into the various stages of product or service life-cycle including procurement of raw material / service, manufacturing of product or delivery of service, transportation of raw materials and finished goods, and disposal by consumers. Check out ITC Sustainability policies here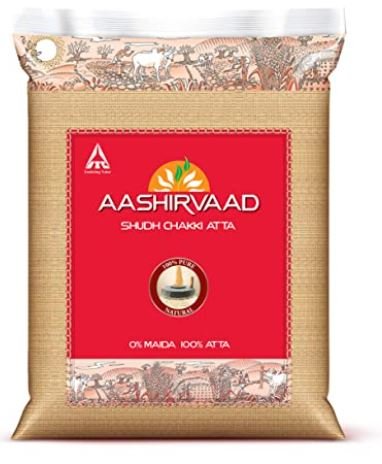 Aashirvaad Shudh Chakki Atta is said to be the No.1 atta brand in India. Aashirvaad has become a reliable brand for the user because of the high quality offering at the reasonable price.
Wheat is directly sourced from the farmers and it contains no Maida which makes it healthier. It is grounded using the chakki – grinding process for the perfect balance of color, taste and nutrition.
2. Fortune Chakki Fresh Atta
Fortune Chakki Fresh Atta from the house of Adani Wilmar Limited (AWL). AWL has associated with Adani Foundation, the CSR arm of Adani Group in the quest against malnutrition and anaemia among communities living in remote areas of the country as a part of 'Corporate Social Responsibility' initiatives.
Project SuPoshan aim to utilize a community-based approach to address the issues of malnutrition and anaemia in about 1060 villages and 85 slums at 22 locations across India. Check out their website to know about the project SuPoshan
Handpicked from India's finest wheat fields, Fortune Atta is made with 100% wheat and 0% maida. Fortune atta is rich in dietary fiber and made with natural chakki process retains the goodness and natural taste
3. Pillsbury Chakki Fresh Atta
Pillsbury atta from the house of General Mills gives back to the community through child nutrition initiatives. With a focused objective of reducing childhood hunger and malnutrition, General Mills has partnered with, the World Food Programmed (WFP) and Tata Trusts, to reach vulnerable children in India, with the agenda of making their meals more nutritious. To know more about their vision check out this video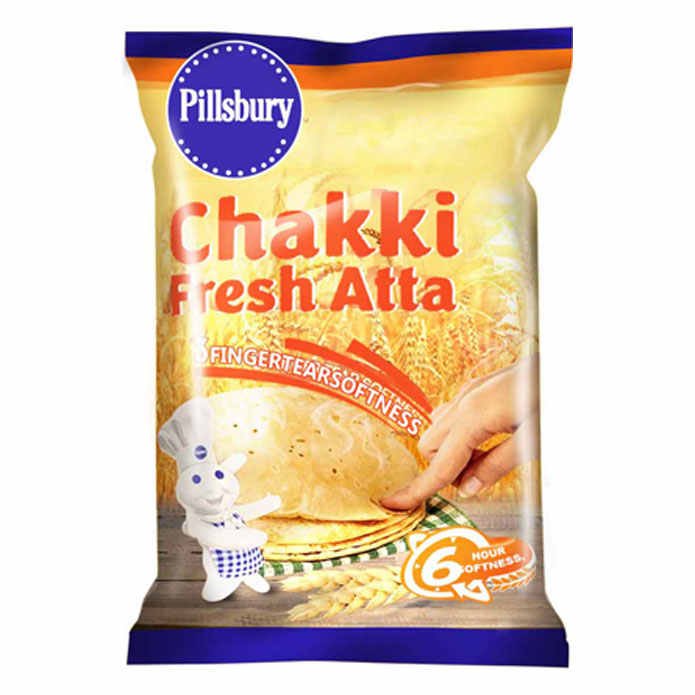 Pillsbury Chakki Fresh Atta made from whole wheat helps prepare fresh rotis which stay softer up to 6 hours. The Pillsbury Chakki Fresh Atta has 100 percent wheat with fiber, so it gives all the nutrition to your family with easy digestion.
4. Organic Tattva Wheat Flour
Organic Tattva is India's one of the leading brand for Organic food products. Organic Tattva parent company name is Mehrotra Consumer Products Pvt. Ltd. There is no such information available about Mehrotra Consumer Products Pvt. Ltd Sustainability or Corporate social responsibility but certification from USDA Organic, Jaivik Bharat, India Organic & others is a symbolic for a sustainable brand.
With Organic Tattva wheat atta one can move his/her life slightly towards the goodness of chemical-free natural lifestyle, simply means less chemical in our environment. They test each and every product for 186 different types of pesticides before they are CO2 fumigated. Price is bit on the higher side but not all good things in life comes at cheap valuation.
5. Nature Fresh Sampoorna Chakki Atta
Nature Fresh Sampoorna Chakki atta parent company name is Cargill Food India Limited. Cargill foods believes in nourishing the world in a safest and sustainable manner and they are working towards this purpose globally and in India. Their flagship PROJECT SAATHI'- a local community development program aimed at improving livelihoods of 5000 farming households. The project is active since 2015 in Davanagere district, Karnataka. Check out Cargill Foods Sustainability policy here
NatureFresh prides itself on its selection of high quality, natural ingredients that are processed in the right way, to produce atta that has just the right texture – neither too fine nor too coarse. Producers take extra care and keep in mind that its natural ingredients remain the same that provides soft and fluffy roti which power customers through their day.
Conclusion…
We at Ejoykart will always presents to you the brand and products which are popular among masses but along with that we'll also highlight the brand or product sustainable value. How much that particular product or brand is creating joy in the environment through its business policy.
Consumer could like any item due to its price, convenience, quality or due to any personalized reason but we would like to request our conscious consumer to be sensible about their buying. Choose items from sustainable company so that they continue to foster the same value and eventually promote it among its peer and competitor. This will only help our community and our environment.